Stage 1 Quick Browse
Lesson 4/5
Career Information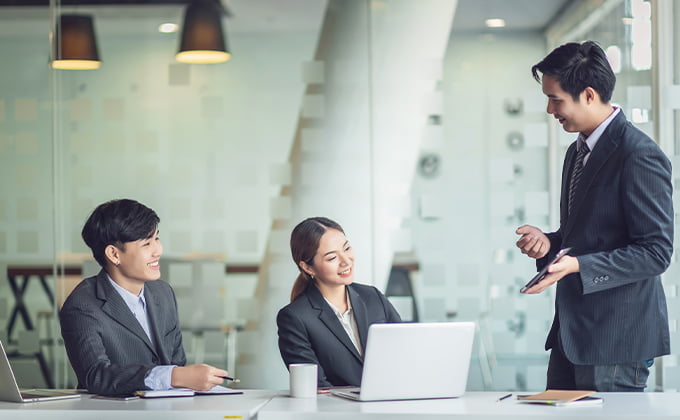 The Rikkyo University Career Center provides many programs and events for all students in support of their future career paths.
Career Statistics
97.9%
Class of 2020
employment rate
24,046
Positions posted for
Rikkyo grads (AY2019)
Major Companies that Hired Rikkyo University Graduates in 2019 (including international graduates)
Industrial Work

INPEX Corporation/ Shimizu Corporation

Manufacturing

Asahi Breweries, Ltd./ Bridgestone Corporation/ Casio Computer Co., Ltd./ Hitachi, Ltd./ Honda Motor Co., Ltd./ Johnson & Johnson K.K./ Kikkoman Corporation/ Konica Minolta, Inc./ LOTTE Co., Ltd./ Mazda Motor Corporation/ NHK Spring Co., Ltd./ TOTO Ltd./ Nissan Motor Co., Ltd./ NSK Ltd./ OMRON Corporation/ Panasonic Corporation/ Sapporo Breweries Limited/ Seiko Epson Corporation/ Shiseido Company, Limited/ Sony Corporation/ The Procter & Gamble Company of Japan Limited/ Toyota Motor Corporation/ Yakult Honsha Co., Ltd./ Yamaha Corporation

Wholesale / Retail

Bosch Corporation/ Fast Retailing Co., Ltd. (UNIQLO)/ Mitsubishi Corporation/ Seven-Eleven Japan Co., Ltd./ Starbucks Coffee Japan, Ltd.

Finance / Banking / Insurance

Bank of Japan/ Japan Bank for International Cooperation/ Mitsubishi UFJ Morgan Stanley Securities Co., Ltd.

Transport / Communications

All Nippon Airways Co., Ltd./ East Japan Railway Company/ Japan Airlines Co., Ltd./ Narita International Airport Corporation/ SoftBank Corp.

Real Estate/ Public Utilities

ENEOS Globe Corporation/ Mitsui Fudosan Co., Ltd.

Broadcasting / Advertising

Japan Broadcasting Corporation/ Jiji Press, Ltd./ The Asahi Shimbun Company

Information Technology

Amazon Web Services, Japan K.K./ IBM Japan, Ltd./ Microsoft Japan Co., Ltd./ NTT Data Corporation/ Panasonic System Solutions Japan Co., Ltd./ Rakuten, Inc./ Yahoo Japan Corporation

Service Sector

Conrad Tokyo/ Deloitte Tohmatsu Consulting LLC/ Hoshino Resorts Inc.

Education

The University of Tokyo

Civil Service

Tokyo Metropolitan Government
Career Support
Students are provided with a wide range of support from Career Center and their respective Colleges during their time at Rikkyo. For example, students have access to internships, counseling sessions, guidance sessions, and career fairs.
Back to Quick Browse