Stage 1 Quick Browse
Lesson 1/5
What Can You Study?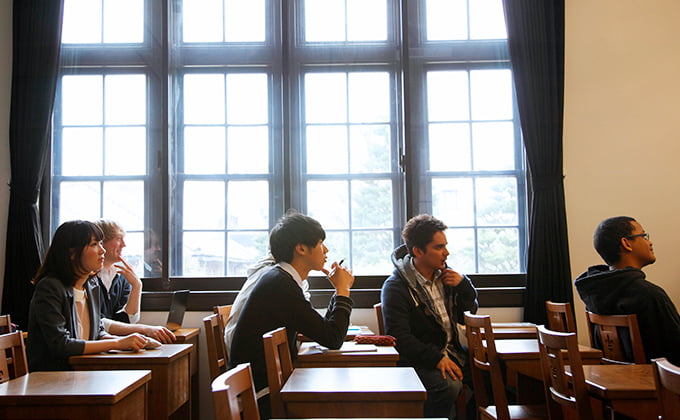 As a designated Top Global University, Rikkyo University believes an international mindset starts with education and it starts with us. Welcoming you on campus is an integral part of our goal for it is with you and through you that we can offer the world progress.
The interdisciplinary goal of the Rikkyo University PEACE Program, with the following undergraduate programs for international students, is to promote peace through realizing a multicultural coexistence in the glocal society. The world needs active membership, and Rikkyo's PEACE Program is an initiative to cultivate this perspective in students.
PEACE Program students are expected to graduate with a mindset to face the future. To be:
Proactive:Take the initiative to promote world peace.
Ethical:Understand human rights and work for the betterment of others.
Able:Apply skills and knowledge to overcome obstacles.
Collaborative:Contribute to the development of the global community.
Engaged:Influence others to achieve positive change.
In brief, each undergraduate program conducted in English is introduced below.
All students will be required to take Japanese language classes during your first year.
PEACE CIC
College of Intercultural Communication (CIC)
Intercultural Communication

Communication Studies

Global Studies

Language Studies

Translation and Interpreting Studies
Global Liberal Arts Program (GLAP)
Global Leader

Liberal Arts

Citizenship

Late Specialization

Innovator
Global Program of the Department of International Business Law
College of Law and Politics
Global Legal Thinking

Comparative Perspective

Technical and Logical Thinking

Best and Fair Business Practices

Global Leadership
Back to Quick Browse