Stage 2 Explore Further
Lesson 9/21
Japanese Language Learning Opportunities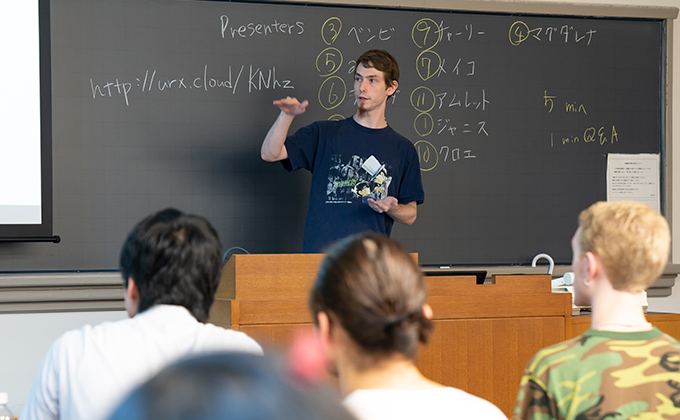 A student making a presentation in Japanese.
You will be required to take Japanese language classes during your first year at Rikkyo University*. It is our goal to have you live a comfortable and enjoyable life in Japan, and so we will require all PEACE Program students to take Japanese language classes during their first year at Rikkyo University. We are sure that the result will enable you to communicate in Japanese with peers and the community. From the second year onwards, you can choose to continue your Japanese language studies, and we encourage you to do so. The Center for Japanese Language Education (CJLE) offers courses from complete beginners to those conducting research.
*We do not have the Japanese language classes exemption system.
Thus, upon arrival and before classes start, you will take a Japanese language placement test at the CJLE.
PEACE CIC and International Business Law majors will take 5 credits per semester. GLAP majors will take 4 credits of Japanese and 6 credits of Academic English.
Japanese Language Education Program
If you want to continue to study Japanese from your second year, you can continue to take Japanese language courses as electives.
Nine levels
Japanese language courses are divided into nine levels, from J0 (basic level for students who have no prior Japanese learning experience) to J8 (advanced level of students who can study and conduct research in Japanese at the university level).
Three types of Japanese courses
Integrated Course – suitable for students who want to learn Japanese and improve their speaking, listening, reading, and writing abilities.

Skill-based Course – suitable for students who want to acquire specific language skills for their studies, such as essay writing for academic purposes or business Japanese language skills (for job seekers).

Content-based Course – suitable for students who want to learn more about the Japanese society and culture and learn Japanese in the context in their area of study. The CJLE offers course contents for seven different areas of study.
What CJLE Provides
Japanese Support Desk
The CJLE offers the Japanese Language Support Desk service to assist international students in their Japanese language studies. Staff members who specialize in Japanese language education will work with you.
The types of support include:
Personal tutoring on any type of writing in Japanese, including essays and academic reports

Advice on how to effectively pursue your study of the Japanese language

Introduction of Japanese textbooks and other self-study materials

Provision of information on the various Japanese language certification tests, including the Japanese Language Proficiency Test (JLPT)

Advice on completing job applications and scholarship applications in Japanese

Other related information on Japanese language study
Rikkyo Kanji Certificate Examination(RKCE)
The Rikkyo Kanji Certificate Examination (RKCE) is an original test developed by Rikkyo University to evaluate students' knowledge of Japanese kanji characters, both recognition and comprehension. It is held four times a year, and there are three proficiency levels – Basic, Intermediate and Advanced.
Each level is further divided into smaller components: six stages for Basic, seven interest areas for Intermediate, and seven interest areas for Advanced. You can take the exam by selecting the level, stage, and area appropriate to your Japanese language proficiency, learning situation, and field of specialization.
Japanese Speech Contest for International Students
The CJLE hosts an annual Japanese Speech Contest. This contest aims to provide opportunities for international students who have been enrolled in a Japanese language course to show their achievements and experiences in Japan and hopefully to motivate them to improve their proficiency in Japanese. The speech contest also provides opportunities to enhance mutual understanding (or cultural exchange) between international students and people around international students including students at Rikkyo.
Back to Explore Further